This week I decided to leave my house for a reason other than work or running. Clearly this was very important, since I seldom leave my house.
Since I did my long run on Sunday, on Monday I had time for a trip to Road Runner Sports in Campbell to get my gait analyzed. I haven't done this in a couple years so I thought pre-marathon would be a good time. Boy am I glad I did. The last time I did this we determined that I was a neutral, mid-foot runner with a high arch. Well, today they used this cool machine called the
Shoe Dog
(lol) with force plates that map out your pressure points, produce an image of your arch type, and then they had me run on a treadmill to see how my foot pronates while I run. Then the guy even molded some inserts for me to try on with a few pairs of shoes.
The verdict: Very high arch, extremely flexible arches, and some pronation.
Here's a nice little picture of arch types:
Cool you have weird arches, so what?
Normally, high arched runners supinate (roll outwards). Since my arches are so flexible, they collapse on every stride and make me pronate (roll inwards). This makes it a little tricky to find the perfect running shoe.
I tried on a few pairs here but only liked 1 and then the salesgirl disappeared for long periods of time and I had to go to an appointment so I didn't have time to wait another 40 min for her to help me.
So Tuesday I hit up Athletic Performance and Runner's Factory in Los Gatos. Runner's Factory is where I originally got fitted for shoes. What I love about these 2 stores is that they are small businesses and owned/staffed by knowledgeable runners. I felt that my questions were adequately and thoughtfully answered. I felt pretty unattended to at Road Runner. Both Kristine and the girls at Runner's Factory watched me run, squat, and then pulled shoes for me to try based on my preferences and such. Athletic Performance didn't have any of the shoes/colors I liked in my size, so Kristine called their Willow Glen location to have them bring some over. I will be making another visit at the end of the week. However, I did try on a pair at Runner's Factory that I really liked.
Now I can't decide which one to get and which color to get. I will have to sleep on this.
Option A:
Mizuno Wave Inspire 9
- Not crazy about this color and the other options are gray and bland.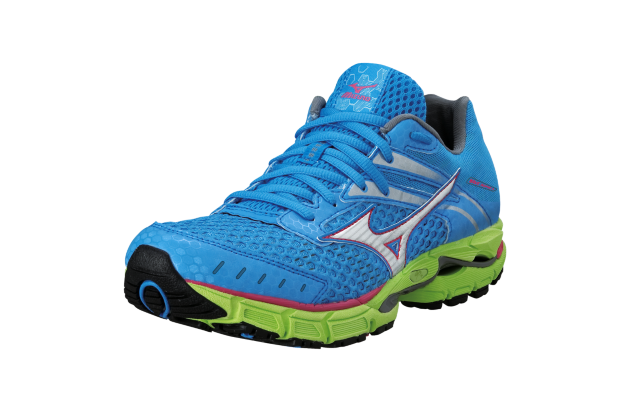 Tune in next time to find out which ones I got!